How 80 year old grandma Looked 30 years younger
Have you seen the makeover of the 80-year-old grandma that went viral - if you haven't, we recommend you take a look, it's jaw-dropping. When you see her before picture, you think, she's clearly an 80-year-old woman. But then you see the after picture where she looks 30 years younger. You go into a feeling of shame and embarrassment. My makeup never looks like that. I'm happy if I can get my mascara on without stabbing myself in the eye. This 80-year-old woman, Mulac, looks like a goddess. However, she didn't get that look by herself. I did some slight research on her story and found out that her granddaughter, who's a professional makeup artist did Mrs. Mulac's makeup. Of course, she is. It makes complete sense now - Mulac's skin was just too flawless for the average hand.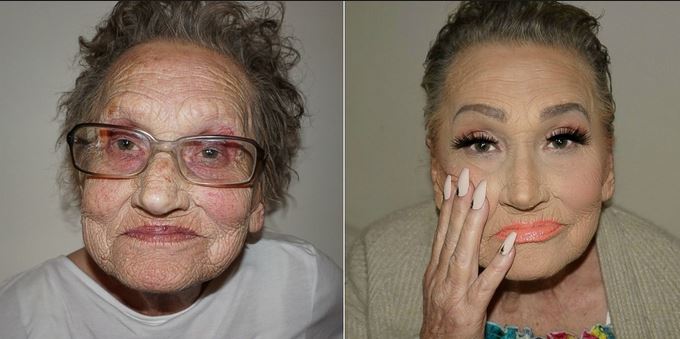 Let's not kid ourselves, makeup has the power to transform anyone into a completely different person. You can make your skin a lighter or darker shade, your eyes bigger or smaller and your lips plumper. In the case of Mulac, she's 80-year-old, so she already experienced the aging process. However, what about the case of younger people? How can our skin look flawless and radiant without loading globs of foundation and blush on our faces? Makeup will always be available to cover imperfections, but before you put the makeup on, you need to work on naturally keeping your skin's youth. Here are some of the best ways to maintain youthful and radiant skin.
Drink your water
You probably sighed while reading this title, but it's number one in keeping your skin's elasticity and glow. In order for your body to function at its optimal level, you need to stay hydrated. Have you ever looked in the mirror after a heavy night of drinking? Does your skin look dry and dull? It's because alcohol dehydrates the skin, you're welcome.
Don't forget your sunscreen!
Even if it's not sunny outside, make sure to wear a good-quality facial sunscreen to prevent premature aging and wrinkles. The vitamin D from the sun is extremely beneficial for the body, however, excessive exposure to the sun can lead to sunspots and burns, which all contribute to the aging process. You can purchase foundation which has an SPF in it or simply apply sunscreen separately. Try buying a sunscreen which is at least 15 SPF - it will provide you will minimal protection.
Sleep sleep sleep
People with large bags under their eyes didn't get them from sleeping a full 8 hours. It's quite the opposite actually, so learn from example and make sure to get a proper sleep. While sleeping, this is the time when the body rejuvenates and repairs itself. Without sleep, not only will you look tired and feel irritable, but you also put your immunity at risk and become more susceptible to illness. We understand that there will be some nights when you will want to go out and stay up late - we're not saying to lock yourself inside your home and go to bed at 8pm. However, if you're consistently receiving less than 8 hours of sleep, eventually that will catch up with you.
Moisturize daily
Get yourself a good moisturizer. You need it. Your skin actually takes quite a beating during the day as it is fully exposed to all the elements. In the morning and before bed, take time in developing a beauty routine which focuses on nourishing your skin with the essential minerals and vitamins, aiding in providing your skin with protection and hydration. So, make sure you get yourself a good eye cream, exfoliant, and moisturizer for your face and neck. Don't forget about the neck. You've seen turkey necks? You don't want one.
Work from the inside out
Moisturizers, sunscreen - these are all great methods for preventing aging, however, you need to make sure that you also take supplements which help your body from within. You can try taking an HGH supplement such as Genf20 Plus which aids in stimulating the natural production of HGH in the human body. HGH is the human growth hormone, which is naturally produced for cell growth and rejuvenation during our adolescent years. As we age, HGH decreases in production, thus, leaving us with wrinkles and aging skin. If you take an HGH supplement like Genf20 Plus, the production of HGH in your body will increase, thus, allowing your body to fight back against aging. This is a great way to use your body's natural hormones in slowing the aging process.
By simply taking some time out of your day to take care of yourself, you can turn back the hands of time and delay the aging process. Everyone wants to look their best, but many think that it takes too much work. Your health is something you should invest in. So don't feel guilty by taking some time out of your day for you. Try these methods out and you will notice a huge difference in your skin and overall body.